Tuesday, Sep 14, 2021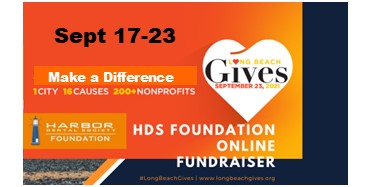 MAKING A DIFFERENCE - Early giving starts Sep 17th thru a 24-hour giving day on Sept 23rd
We need your support to help us reach our goal of $5000.
Here are a few simple ways to help:
Write a check starting now - If you wish to donate by check, please make it payable to the HDS Foundation and remit to: Harbor Dental Society Foundation, 4010 Watson Plaza Dr., Suite 210, Lakewood, CA 90712. All donations are appreciated and will make a positive difference in serving those in need of access to oral healthcare treatments in our community.
Make an online donation in any amount starting September 17th leading up to the official Long Beach Gives giving day of September 23rd.
Donate online: https://donate.longbeachgives.org/HDS-Foundation.
Join our Social Media Squad by sharing Long Beach Gives posts to help reach potential supporters. Please be sure to "like", comment, and share the Long Beach Gives posts on Harbor Dental Society's Facebook page, HDS Foundation Facebook page, and Harbor Dental Society's Instagram.
Create a Peer Fundraiser Page with Long Beach Gives (similar to a Facebook Fundraiser page). To access and create your own Peer Fundraiser Page (takes under 2 minutes!) please click here to begin.
Looking forward to having you join the fun and making a positive difference in supporting access to oral healthcare for the underserved children in our community.
Thank you for your continued support of HDS Foundation's mission—To improve the oral health of the local underserved community through volunteer efforts and funding. To encourage a successful start of our Long Beach Gives fundraiser, my partner and HDS member, Dr. David Taylor, and I will each match up to $500 for any member donation!
Let's go HDS Foundation Team!
Questions: Janet Garcia will be your contact person throughout the campaign, so if you have any questions, send them to her email: janet@harbordentalsociety.org or call the Harbor office at 562-595-6303.
With Gratitude,
Jonathan
Jonathan Lo, DDS
HDS Foundation Chair