Thursday, Dec 6, 2018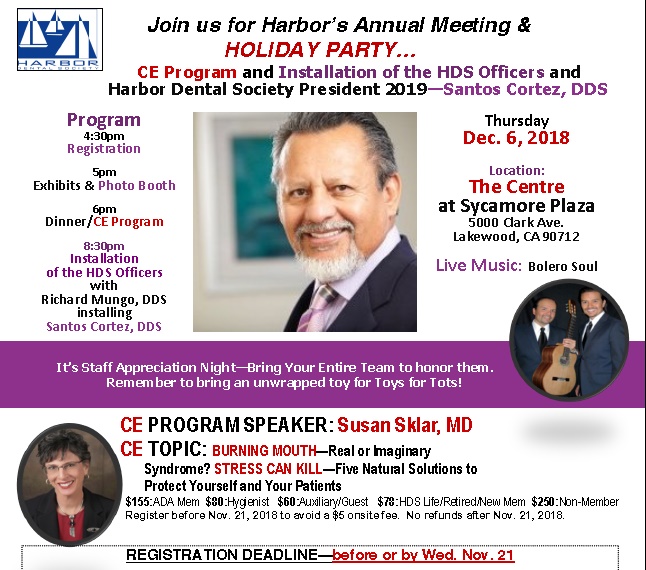 CE Topics: Burning Mouth Syndrome—Real or Imagined? Stress Can Kill: Five Natural Solutions to Protect Yourself and Your Patients
Harbor's Annual Meeting & Holiday Party with CE Program and 2019 Installation of Officers and Incoming President Santos Cortez, DDS
CE speaker: Susan Sklar, MD
CE topic: Burning Mouth - Real or Imaginary Syndrome? Stress Can Kill - Five Natural Solutions to Protect yourself and your Patients
Staff Appreciation, 2019 Life Members Recognition, Past Presidents, plus much more! Live Bolero Music, Festive Food to celebrate this special evening.
Location: The Centre at Sycamore Plaza, 2nd floor ballroom, 5000 Clark, Lakewood, CA 90712
Registration: 4:30pm; exhibits & photo booth 5pm; dinner/CE program: 6pm; Installation 8:30pm
The attendee will learn:
1) To identify and diagnose Burning Mouth Syndrome
2) To understand the epidemiologic and personal impact of the problem
3) The multiple possible etiologies of the syndrome
4) The role of steroid and non-steroid hormones in neurological function
5) A treatment protocol for Burning Mouth Syndrome or be able to make appropriate referrals for treatment
6) The effects of Adverse Childhood Events (ACE) on long-term health and cognition.
7) The physiologic reasons stress impairs memory
8) How stress causes hormonal decline and overall wellbeing
9) About general stress reduction techniques, including relaxation, anxiety management, meditation, nutrition, and exercise.