Wednesday, May 6, 2020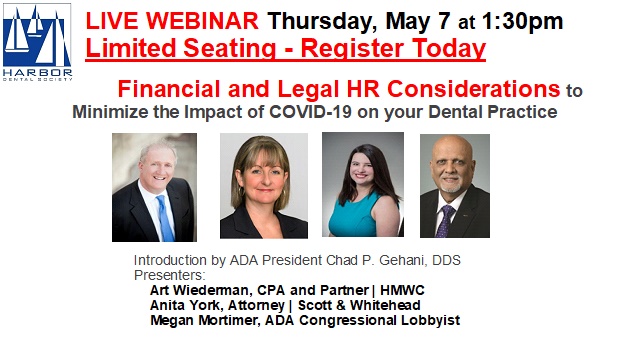 HOT OFF THE PRESS! Harbor and the Orange County Dental Societies present a timely webinar for member dentists to provide you relevant information to reopen your practice, covering the most up to date rules regarding how to gain forgiveness of loans obtained through the Payroll Protection Program (PPP) and legal HR considerations for dentists employers and dentists associates. Many of you either have received or will shortly receive your PPP loan funds Our experts will discuss what you need to do in order to have the best opportunity to obtain forgiveness from the bank when you complete the eight-week period of spending the PPP money. They'll also address returning to work, handling non-emergency operations and working through challenges related to unemployment insurance benefits as well as FFCRA Emergency Paid Leave, scheduling staff to work.
Megan Mortimer is currently a Congressional Lobbyist for the American Dental Association. In her role, Megan represents the interests of dentists and their patients in front of members of Congress and their staffs. Her portfolio includes tax, veterans' affairs, student loans and higher education reform, as well as all legislative matters related to small businesses.
Introduction by American Dental Society President Dr. Chad P. Gehani
Presenters:
Art Wiederman, CPA and Partner | HMWC

Anita York, Attorney | Scott & Whitehead

Megan Mortimer, ADA Congressional Lobbyist

Disclaimer: Please note that as of the sending of this invitation, the Small Business Administration (SBA) who is administering the PPP has yet to provide guidance on how the calculation of the forgiveness is to be made. There are many, many unanswered questions and business owners (not only dentists) as well as their advisors all over the country are frustrated that this critical guidance has not been provided. We strongly debated whether to hold this webinar now or postpone it until the guidance has been provided, however since many of you have received these funds (some as much as two to three weeks ago) we felt it necessary to provide the best possible advice now despite not having the guidance from SBA. We will hold another webinar as soon as the needed guidance is issued.