January 26, 2023 at 5:00 PM to 7:00 PM
Pricing
| | |
| --- | --- |
| Dental Staff | $49.00 |
| Hygienist | $49.00 |
| Non-ADA Member Dentist | $79.00 |
| Individual CE Vendor | $275.00 |
| ADA, CDA, HDS Active Member | $49.00 |
General Information
Provider
Harbor Dental Society
Location

GotoWebinar

,

Speaker
Lou Graham, DDS
Type/Category
Core
Credits
2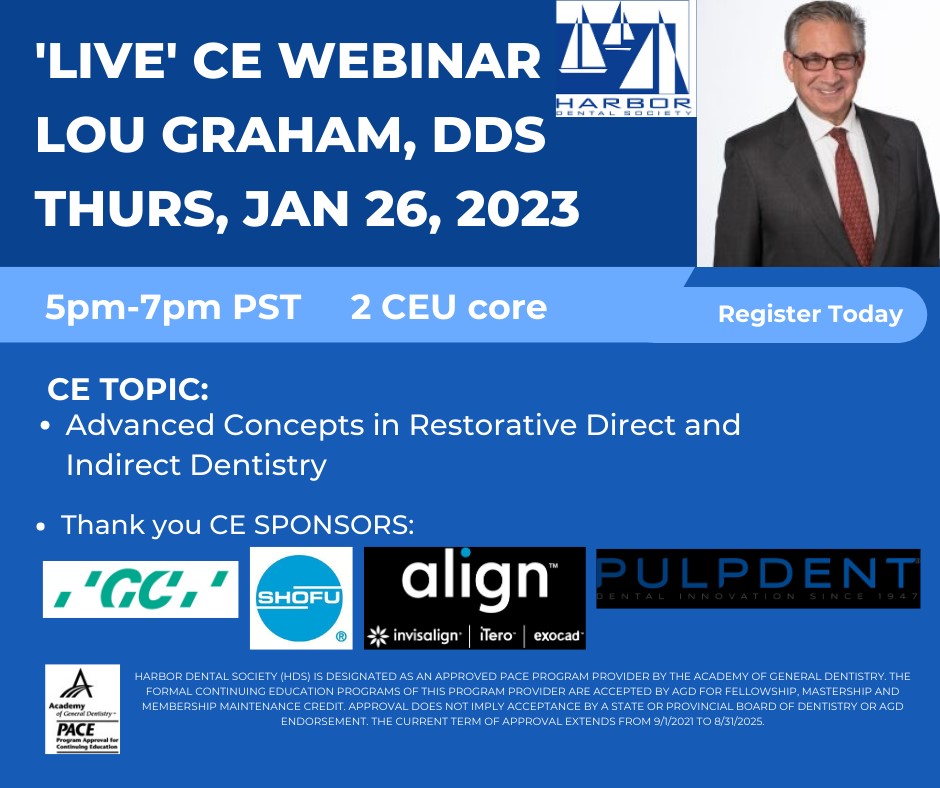 'Live' CE Webinar Thurs, Jan. 26, 2023
"Advanced Concepts in Restorative Direct & Indirect Dentistry"
5pm-7pm PST 2 CEU core
CE Speaker: Lou Graham, DDS
Thank you CE Sponsors: GC America, SHOFU, Align and Pulpdent
For over 100 years, the standard of care for caries diagnostics has been the explorer and x-rays. Let's all agree that if you are utilizing these as your solo tools for caries diagnostics, you are simply guessing way too often. You are also limiting your treatment offerings to patients, both in prevention and early minimally invasive treatment. This program will challenge you with new protocols for care, and problem-solve many of the issues today in direct restorative dentistry. The program then transitions into far more challenging casework that will include both direct and indirect restorative clinical care. Register today to get essential takeaways that you can apply immediately to your restorations.
Highlights:
Modern Day Diagnostics: It's time to put down your explorer and truly compliment your digital x-rays with the latest in caries diagnostics
The key pitfalls in direct adhesion and how to avoid them (you will be surprised!)
Advanced approaches to direct restorative: How to really up your game
"Elevated margins" and the reason they are important
Posts and Cores: Unique approaches to add long term success
Digital Crown and Bridge: The joy of impressions… and more!
Cementation: How to choose the right cements and why bioactive cements offer excellent options today
About our CE Speaker: Lou Graham, DDS
Dr. Graham graduated from Emory Dental School and is an internationally recognized lecturer extensively involved in continuing education for dental professionals. His lectures focus on incorporating current clinical advancements through "conservative dentistry." He emphasizes the same concepts he practices - dental health diagnosis, treatment plans for medically compromised patients, conservative treatment, cosmetic dentistry, and customized approaches to periodontal care, implants, and laser dentistry.

Dr. Graham is the founder of Catapult Education, a continuing education company whose philosophy and programs use contemporary, interactive formats to integrate time-proven conservative dentistry with 21st-century materials and techniques. He is a published author in many leading national and international dental journals and is the former Dental Director of the University of Chicago's Department of Dentistry. He enjoys providing dental care at his multi-specialty private practice group, University Dental Professionals, in Chicago, IL – Hyde Park.
IMPORTANT: Please do not share your GoToWebinar Join Link to this webinar with anyone. Each Join Link is unique to the registered attendee's email and is required for attendance tracking. You must view the webinar on separate computers, do not share links or computers. Otherwise, your attendance will not be recorded and a CE certificate cannot be given.
Refund Policy: No refunds for no shows. Written cancellation must be received 2 days prior to the webinar date for a refund.