October 19, 2023 at 6:00 PM to 8:00 PM
Pricing
| | |
| --- | --- |
| Dental Staff | $49.00 |
| Individual CE Vendor | $275.00 |
| ADA, CDA, HDS Active Member | $49.00 |
| Hygienist | $49.00 |
| Non-ADA Member Dentist | $79.00 |
General Information
Provider
Harbor Dental Society
Location

GotoWebinar

,

Speaker
Anissa Holmes, DMD
Type/Category
20%
Credits
2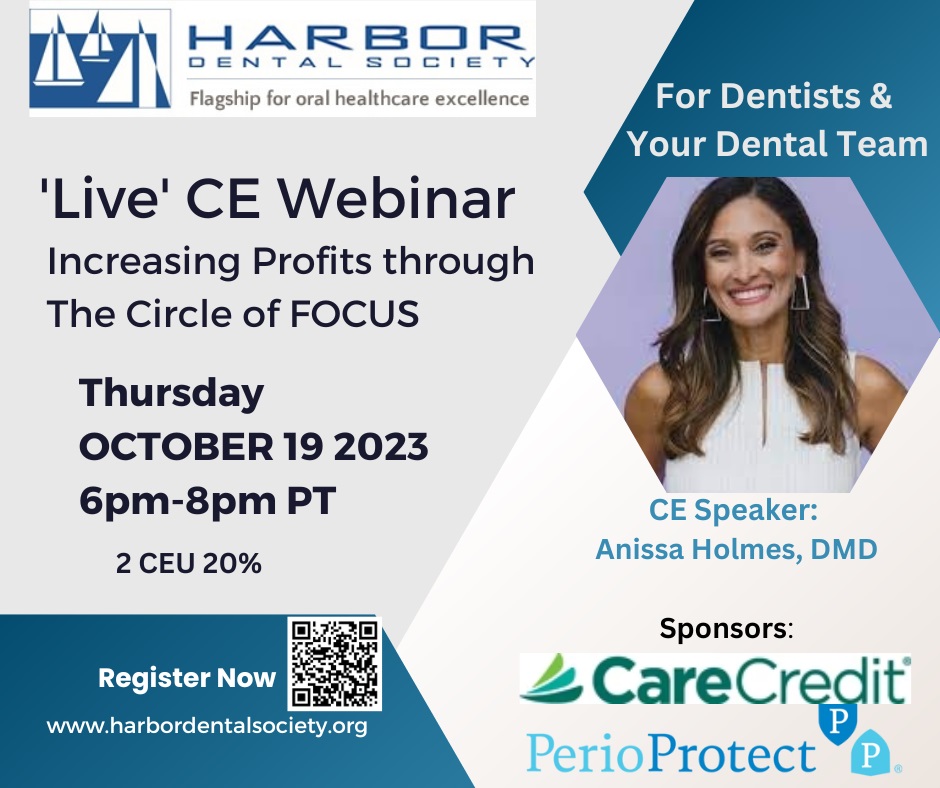 Live CE Webinar: Increasing Profits through The Circle of Focus
Speaker: Anissa Holmes, DMD
Date: Thursday, October 19, 2023 Time: 6:00pm - 8:00pm PST
CEU: 2 (20%)
Dentists are under increasingly higher stress today. It can take the joy out of practicing. Crushing schedules, shrinking profit margins, and constant work are running some out of our professional together. As dentists, we can build more profitable and even thriving practices if we take the focus away from doing business as we have always done. This means admitting to ourselves (as well as to our teams) that we do not have all of the answers. This means shifting our mindset and looking carefully at our leadership. This also includes looking at how we build relationships and serve our patients. Many in our profession, as well as in other small businesses, believe we must work hard for 20 years before we can have the success and freedom we dream of having. But that simply does not have to be the case.
In this high-energy, inspiring presentation, you will learn the simple process for creating a thriving practice. You will also learn to get your team aligned, how to create processes for accountability, and how to predict practice profitability. You will discover how to use whiteboards effectively to reverse engineer growth as well as understand the power of utilizing weekly scorecards and know exactly what to focus on. After attending this course, you will have a road map to know what to focus on first.
Objectives:
Learn ways to enroll and engage your team so everyone will work together to achieve the practice vision
Understand how by creating a unique practice culture, you can attract more raving fan patients and create a healthy work environment
Discover innovative approaches and strategies for providing the WOW customer experience
Learn the importance of Vision and how to develop an amazing team to help Deliver WOW!
Learn how to empower each person on the team to become leaders to prevent overwhelm and to get more done
Explore systems: the key to maximum productivity and a more efficient, profitable practice
Learn how effective communication allows for improved results
Learn how to empower each person on the team to become leaders to prevent overwhelm and to get more done
Dr. Anissa Holmes, is a dentist, business acceleration coach, practice growth specialist, and best selling author is dentistry's top leader in virtual and online business training and coaching. She has advised coaches, multi-million dollar practice owners, and startup practices.

Through her speaking presentations, podcast, and blog, she shares tips for designing a unique business culture to deliver a "wow" experience every time. Her tested strategies increase case acceptance, reverse engineer profitability, and empower and build an amazing dental team.

Dr. Holmes is the founder of Dental Boss Academy & Platinum Coaching, dentistry's #1 online doctor and team training programs that empowers professionals to master the business side of dentistry.

After coaching thousands of dentists and as a practice owner whose practice had doubled profits the last 3 consecutive years, Dr. Holmes shows dentists exactly how to create a profitable, thriving dental practice with enthusiastic, inspired team members and patients who are raving fans. Her courses offer actionable steps to help dentists exponentially increase their profits and case acceptance rate rapidly as well develop their business culture, systems, and brand.

Learn exactly how she is empowering doctors to delegate and elevate their teams, how to know exactly what to focus on to grow and scale your practice, and how to translate the latest marketing strategies so you too can implement them in your business.
IMPORTANT: Please do not share your GoToWebinar Join Link to this webinar with anyone. Each Join Link is unique to the registered attendee's email and is required for attendance tracking. You must view the webinar on separate computers, do not share links or computers. Otherwise, your attendance will not be recorded and a CE certificate cannot be given.
Refund Policy: No refunds for no shows. Written cancellation must be received 2 days prior to the webinar date for a refund.